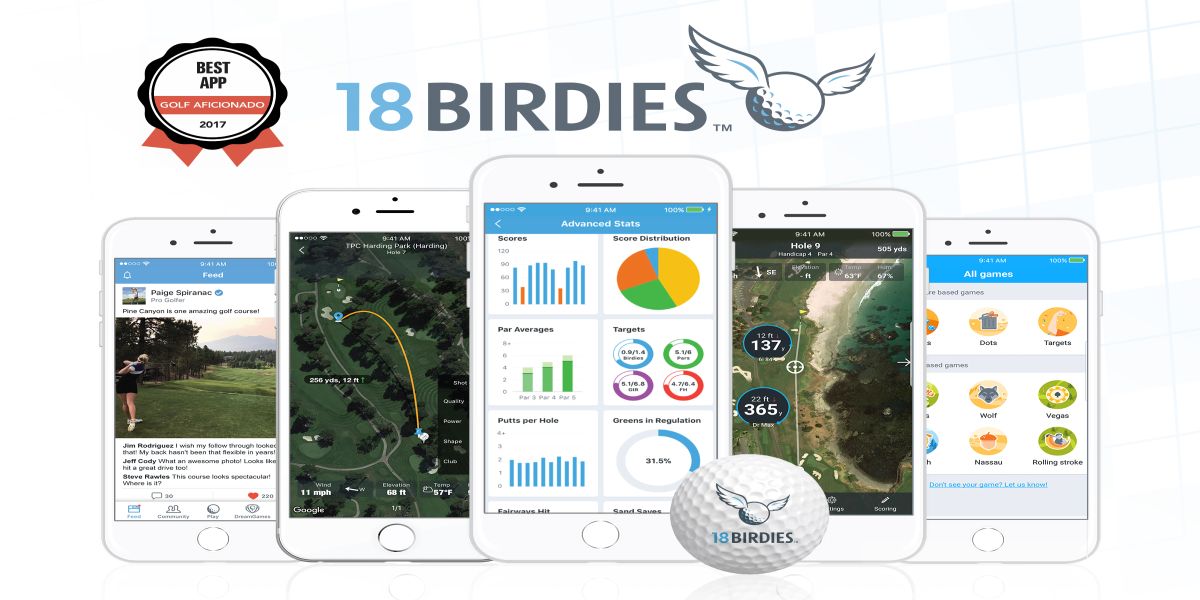 18 Birdies was designed as a high-tech and detail-oriented smartphone app to aid both avid and aspiring golfers. In the age of smartphone apps, 18 birdies delivers a smooth user experience and a comforting ease of use, making navigating the course easier than ever. The free version offers users a birds-eye GPS view of the course and distances to any point are just a tap away. However, the free version does not unlock the power of 18 birdies. Premium members have access to real-time course conditions (wind speed/direction, elevation, temperature etc.), personalized caddie for club recommendations, fun side games, and more. Keep reading to find out more about the app!
Usability 
As soon as you open the app, you will find a live newsfeed of others using and sharing their golfing experiences. Along the bottom runs a navigation bar to guide you through the feed, community, playing golf, personal profile, and dreamgames (more on that later). The ease of use makes this app even more enjoyable. Nobody wants to fiddle around with an app for 10 minutes trying to figure out how to start a round or share a score!
Customization
Customization is really where 18 birdies sticks out, but only if you're a premium member! Under your personal profile, you will find your golf bag. Setting up your bag is easy. Simply pick which clubs you carry and choose from the long list of makes and models of each club. Depending on how old your set is, some clubs may not be listed. You will also want to indicate how far you hit each club on average.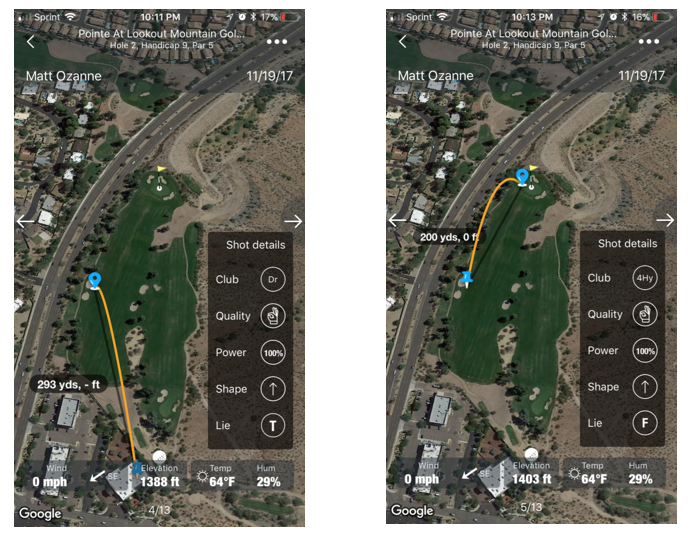 Once your bag is set up, your "caddie" will make club recommendations throughout your round based on how far you need to hit your next shot. This is a very helpful feature as it also considers wind an elevation when making recommendations.
Engagement/Sharing
Everyone wants to tell their friends when they shoot a great round, and heck why not, golf is hard! If you'd like to share something, tap on the feed icon along the bottom, and in the bottom right corner you will see a pen and paper logo. Tap that logo to share your thoughts with the public, a private group, or a tournament group.
Along the bottom, you will also see something called DreamGames. All you need to do to earn "golf bucks" is just play golf. Once you have enough golf bucks, you can buy scratchcards. These scratchcards can be used to win prizes like balls, clubs, and gift cards. Each scratchcard also enters you into a monthly grand prize drawing for a chance to win a dream golf trip! Just keep scratching cards and you may find yourself in a future Pro-Am.
Round Experience
Now it's time to play golf. To start, tap the "play icon along the bottom." The GPS will automatically find the nearest course. You can also search by course name to find over 35,000 courses. Since I have not played Lookout Mountain before, I'm going to need some help navigating through each hole. I am also betting against my friends for lunch after the round, so I will take all the help I can get!
On the scoring section you will have access to stat-tracking (fairways in regulation, greens in regulation, putts etc.), advanced GPS, GameBets, adding friends to the round, the scorecard, and taking notes for each hole. As you begin each hole, you can tap or drag the white cursor anywhere on the course to see the distance to that exact point. This helps to avoid hazards and keep your ball in play! To track your shots, you will click on "GPS+" and adjust the settings to your preferred unit of measurement.
After you hit your shot tap "track shot" until you reach your ball's destination where you will tap "end tracking". While on the way, you will see shot details along the right side as indicated in my screenshots. Here you will see details like your club used, quality of shot, power, shape, and lie. The only bad part about shot tracking is that I found it tough to track my putts accurately between short distances. Perhaps a zoom feature may be in the works.
Conclusion
Overall, 18 birdies is smooth, easy-to-use, and packed with extra features. It allows you to customize your own golf bag, share your great rounds, and best of all, it helps you lower that handicap!  The writers and editors here at Golf Aficionado liked 18 Birdies so much that it won our award for the best smartphone app.  In our opinion, every golfer should have 18 birdies installed on their phone.  How you use the app will vary but with some many features, you're sure to find at least one that you can't live without.
The only negative takeaway I had was more of a personal preference. I didn't like having to carry my phone with me to every shot in order to track them. With all the contact from the outside world, it distracts me from my focus throughout the round. The most useful feature for me is the GPS and caddy+, which really helps when needing to know which club to pull and what shot will be safe, along with the wind and elevation data. Although I do not take advantage of all the features 18 birdies has to offer, I highly recommend it to anyone looking to lower your handicap and be a better golfer than you were yesterday.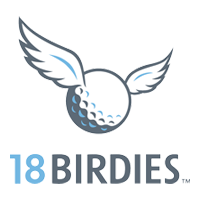 18 birdies winner of the 2017 Golf Aficionado Best App award is available for free download from both the App Store on iOS and Google Play for Android.  A long list of standard features which include GPS+, Digital Scorecard, Stats & Round History, Targets – Goal Setting, Round & Social Sharing, DreamGames, Handicap, Achievements, Leaderboards, and Digital Golf Bag are available for use within the app at absolutely no cost.   A premium membership is available for $45 per year which unlocks additional features such as; Advanced GPS+, Caddy+: Custom Recommendations, Caddy+: Shot Tracking and History, Advanced Stats, GameBets, Group Outings, and Golf Bucks Multiplier.