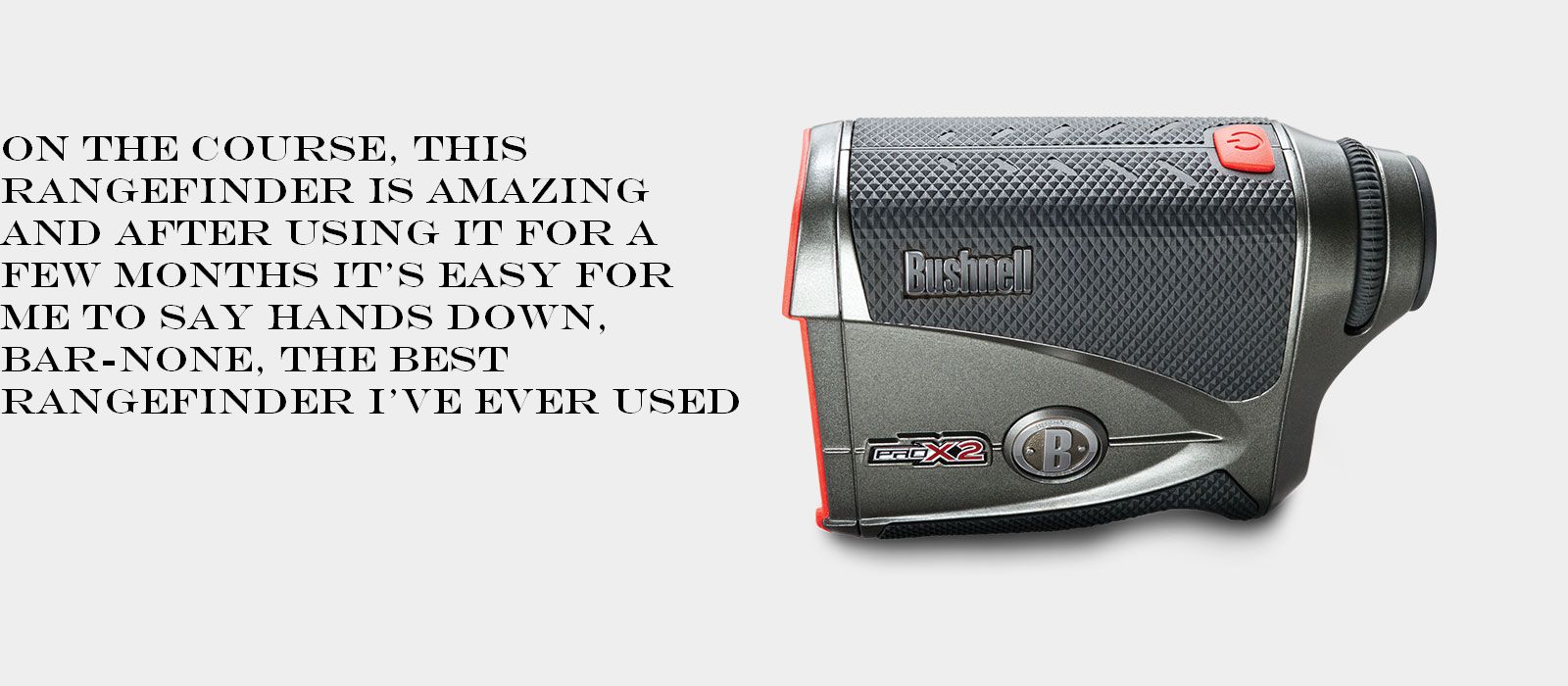 A few months ago I was heartbroken when my trusty Bushnell Tour V3 Slope Edition Rangefinder fell out of the golf cart, hit the curb, and broke into several pieces.  After having the rangefinder for a few years I had gotten addicted to knowing exact yardages for every shot.  In fact, I didn't realize how dependent I had become on the rangefinder until I had to live without one for a few months.  The biggest issue was with my approach shots, not knowing the exact yardage to the pin.  I always found myself second guessing which wedge I should be hitting with and often would end up hitting the ball too short or well past the pin.  Finally, enough was enough and I decided to reach out to my good friends at Bushnell and see if they would be willing to partner with us in an editorial review.
Bushnell sent over their brand new PRO X2 laser rangefinder.  First impressions, out the box, this unit is solid; the weight and feel are perfect and the rangefinder oozes quality.  On the course, this rangefinder is amazing and after using it for a few months it's easy for me to say hands down, bar-none, the best rangefinder I've ever used.  I mean it's not even close, I loved my Bushnell Tour V3 with Slope but the fact that I couldn't use it in tournament play was always a bummer.  The V3 with Slope was the first Bushnell to offer slope reading.  However, there was no way of deactivating the slope feature which renders the V3 with Slope illegal for tournament play.
So out of the gate, the PRO X2 is head and shoulders above my old V3 because with the flick of a switch you can be tournament legal or using slope.  Another major improvement over my old Bushnell V3 is the awesome red font that's available, you have the option to use the standard black font or hit a button and switch to red.  It took me a few rounds and some bad weather to understand just how important the ability to switch from red to black is.  At first, I just thought the red lettering and numbers looked cool.  Then I played my first round in nasty weather on a grey day and boy did that red font pop and stand out when taking a reading.
The other major improvement that really put the PRO X2 over the top is trivial but extremely important.  I'm sure anyone that has an older Bushnell rangefinder will be able to agree with me on this one.  The PRO X2 actually has a battery life indicator, I mean it sounds simple that the device depends on a battery so you would like some notification when the battery is nearing the end of its life.  Unfortunately, my old Bushnell V3 and the majority of the older Bushnell units don't offer a battery life indicator.  It has always been my biggest pet peeve, I can't tell you how many times I've been out on the course only to end up with the battery dying on me mid-round.  So frustrating, I know I've cursed Bushnell several times on this one so I'm very happy to see the new PRO X2 includes a battery life indicator.
I passed the Bushnell PRO X2 around to several of our writers and everyone had the same feedback, "Best rangefinder they had ever used".  You talk about golf writer's being excited, we love trying out new gadgets but rarely have I seen the excitement level from folks like I did with the PRO X2, unfortunately for them, it's staying in my bag now that the review's complete.   I've gone into detail about 3 features that are key to me, but to be fair as Ron Popeil would say, "But wait there's more".
---
Bushnell PRO X2 Laser Rangefinder Key Features
Slope-Switch Technology (My Top Feature, being able to switch slope feature on/off and be tournament legal)
Rubber Armored Metal Housing (You'll feel the quality in your hand)
IPX7 Fully Waterproof (Nice to know it's waterproof)
PinSeeker with JOLT Technology (My Tour V3 had this and it's great; the JOLT lets you know you hit the pin)
Accurate to a 1/2 yard (You can still blame the rangefinder for up to a half yard)
Ranges 5-1,300 Yards; 450+ Yards to a Flag (Hard to tell your buddy he's too far out for a reading)
Dual Display Technology (My Second Top Feature, the red font is amazing)
6X Magnification (Another big advantage, my V3 was only 5x Magnification, amazing the view the 6X provides)
2nd Generation E.S.P. (Stands for Extreme. Speed. Precision; in other words, it kicks butt!)
Fast Focus System (Didn't notice this much but seems to focus faster than my old V3)
Stable-Grip Technology (Part of the feel, the PRO X2 fits the hand perfectly)
Bushnell PRO X2 Product Rating 5 / 5 Stars
Wow!  Yes, you read that right, 5 out of 5 stars!  An ultra-rare 5 star rating from Golf Aficionado Magazine, in fact, it's only the second time we've given a 5 star rating.  Before my Bushnell V3 rangefinder broke, I never really thought about getting another rangefinder; besides the tournament issue with slope, I was relatively happy.  Talk about living in the dark, after 2 rounds with the PRO X2, I was kicking myself for not upgrading sooner.  The ability to turn slope on/off by just flipping a switch, the cool and effective red letter/number display, and of course the battery life indicator left me questioning what else in my golf bag have I've just been tolerating while missing out on new technology.  The PRO X2 isn't cheap, quality products rarely are.  With an MSRP of $499.99, it's a big price tag especially if you already invested in an older rangefinder and just want to upgrade.  Look at this like trading in an old car, it's never cheap but boy are you happy afterwards.  Also, if you're upgrading an old Bushnell rangefinder that's still functional; check out Bushnell's trade-in program that'll give you money towards a new PRO X2.