Set atop the picturesque Makamehi Bluff on the southern coast of Kauai, HI lies the gorgeous Poipu Bay Golf Course. The course spans 7,129 yards from the tips, with gusting winds that will challenge even the best of golfers. Playing home to the PGA Grand Slam of Golf for 13 consecutive years, this property is just as legendary as it is beautiful. The event ended in 2006, but not before some regarded it as one of the most prestigious events in golf, hosting some of the game's greats like Tiger Woods, Phil Mickelson, and Greg Norman. The players competed in a two-day tournament for a purse well over one million dollars. Unsurprisingly, Tiger Woods won the event 7 times (out of his 8 appearances!) during the unique tournament's 13-year existence, including 5 years in a row.
As we approached the property, we headed to the golf shop to grab some rental clubs for a member of our group. I am always excited to see what type of rentals each resort carries. It is not always easy to travel with your clubs and having access to nice rental clubs makes a big difference. As we were waiting for the clubs, we browsed the expansive golf shop. It offered a fantastic selection of clothing, coupled with putters and woods for sale. Beside the check-in desk was a list for you to print your name on.  Why do you ask?  Well, upon arriving, we learned that Poipu Bay will have a custom engraved bag tag waiting for us once our round is complete, a detail that definitely did not go unnoticed.
Once we finished up in the golf shop, it was time to warm up. We made our way down the stairs to the cart area to check out the rental sets. I was a bit disappointed at first to not see one of the major brands in the bag such as Titleist, Taylor Made, or Callaway, but boy was I wrong. The Srixon clubs provided were well-equipped with woods and a hybrid, along with a few wedges. The feel off the clubs surprised me, and the combination of the flawless range made warming up quite enjoyable. Each hitting station had balls provided and four to five target greens for distance control. The chipping and putting facilities featured well-manicured grass and a silicon sand bunker for practicing those pesky sand shots.
The first tee runs alongside the driving range on the left, so we didn't have to travel far to be off on our way. Before we left, the starter informed us of our option to order food right from our cart and it will be ready for us at the turn, which we would take advantage of. The first few holes were fairly open, starting first with a 428-yard par-4 followed by hole 2, a 524 yard par-5 playing into the wind. If you hit the driver straight over the bunker here you should be able to get home in two, even into the wind. This was just the beginning of our wind-management journey, as the course is right along the Pacific.
One of my favorite holes on the front nine was the par-3 7th hole playing at 179 yards from the tips. Make sure you take enough club to get over the water though! If you take enough club, you have a good shot at making a birdie here with only minor wind influence. Thankfully, the wind blows consistently East to West, which makes it a bit easier to manage wind, since it is not usually swirling.
Poipu Bay is known more for the scenic back nine, with multiple holes running right along the coastline. You'll most likely choose your back nine favorite between 3 holes, 15, 16, and 17. The wind is at its strongest here with these holes being right up against the waves. Whether you hook it into the water or pipe it down the middle, this 3-hole stretch will surely top off your already spectacular and unique round.
Like any golfer, I'm sure you will want to finish your round on a good note, so I'll give you some tips to finish. 18 is a fairly straightforward par-5 with some room to miss. Don't overthink the tee shot here as you just need to get something out there and in play. This is a tough hole to get on in 2, as there is a lake that runs along the left side and starting about halfway to the green. If you want to play it safe, a layup shot will leave you with a short wedge in and a good look at birdie.
---
Overall, Poipu Bay was a fantastic experience, boasting scenic ocean views and tropical challenges at every turn. There were a few small details that really stood out to me. Our custom bag tags engraved with our names was a great surprise. Ordering from the cart to have it ready at the turn was helpful to keep the round moving. And to finish it all off, the staff greeted us with a fresh cool lemon towel at the conclusion of our round. Poipu Bay Golf Course pays attention to the details and it shows. I highly recommend experiencing this beautiful course if staying near the south end of the island.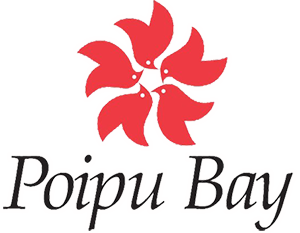 Ready to take on Poipu Bay we recommend booking your accommodations at the  Grand Hyatt Kauai Resort and Spa. To book your round, please visit the Online Tee Sheet and great ready for an amazing experience on the sunny south shore of Kauai.