I'm located in Heathrow, FL just outside of Orlando and the summers here in Central Florida can be downright brutal.  Over the years, I've gotten used to the Florida heat and learned to book an early tee time to avoid the hot temperatures as much as possible.  However, as my daughter has begun to play competitive golf, the tee times are never early and the rounds can last up to 6 hours.  After noticing a drastic drop in her performance on the back nine during tournaments on the U.S. Kids Orlando Summer Tour, I started doing some research to see what products on the market might help boost her energy and stamina.
We had already tried just about every sports drink on the market and saw very little boost in energy or stamina.  After watching the U.S. Open and seeing Amino Vital towels on some of the tour players bags I started doing some research on their product line and reached out to the team at Amino Vital to see what product in their line they recommend for golfers struggling with the summer heat.
Based on their advice I ordered the player pack designed for golfers, this bundle retails for $68.98 but you can typically find it on sale for under $50.  The bundle includes 16 stick packs of Fast Charge, 16 stick packs of Focus Zone, an Amino Vital Water Bottle, and that famous Amino Vital Towel.  My daughter, like most kids her age has a very hard to please palate.  I was worried she wouldn't like the taste of the products, but nothing could be further from the truth.  The grape sensation flavored Focus Zone is her favorite, mine is the lemon splash but both flavors get the thumbs up from our family.
We've found ourselves using Focus Zone more than any of the other Amino Vital products, in fact the packets couldn't be more convenient.  Focus Zone mix packets have become a staple in our golf bag for tournaments.  At every tournament, as soon as my daughter is finished with her range session the first thing she goes for is her Amino Vital water bottle with a Focus Zone mix.  Focus Zone is designed to boost your muscle and mental energy to help you stay energized and focused.  It's tough enough for an adult to stay focused for 18 holes, let alone a child.  Focus Zone has been the perfect on-course companion, helping to keep my daughter hydrated and focused as she competes.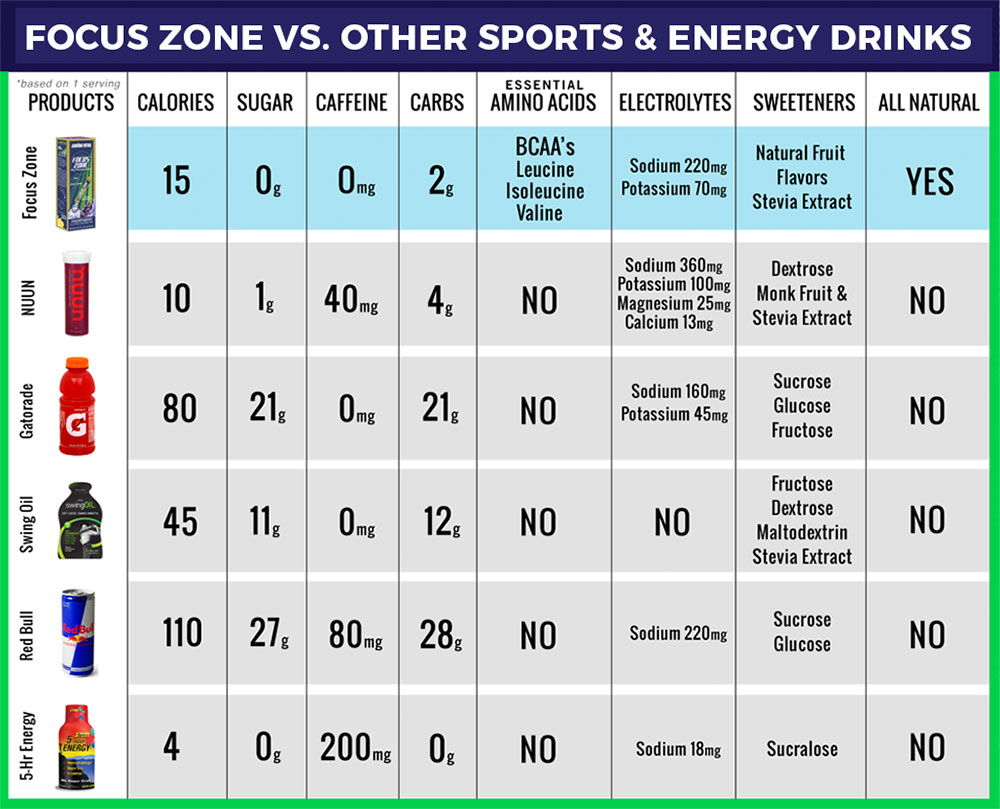 So, what's so special about Amino Vital Focus Zone?  It's not just another snake oil making outrageous claims.  Focus Zone mix is a fast-absorbing formula made from BCAAs, Glutamine, Arginine and electrolytes designed to be taken during competition to sustain your energy and focus.  With the help of Amino Vital Focus Zone my daughter has been able to maintain her focus but more importantly her energy. Over the past several tournaments since we've started using Focus Zone, her back 9 scores are better than her front nine.  Prior to taking Focus Zone that had never happened!
If you're interested in learning more about the science of Focus Zone, please visit the Amino Vital website.  You'll be able to learn about the importance of amino acids and how they can help you focus to improve your on-course performance.  I've seen firsthand how Amino Vital can help with performance and will continue to make sure it's in the golf bag!