Another PGA Merchandise Show has come and gone so it's time for our annual recap.  January's a month of new beginnings, a time for a fresh start.  It's also the time of year when everyone in the golf industry descends upon Orlando to show off their latest products and innovations.
With a strong economy, I had high hopes coming into the show.  I mean the stock market is bullish, Tiger's playing golf again, and all directions are pointing up.  I'd be lying if I didn't say I wasn't a little disappointed.  There was no shortage of exhibitors at the show, but overall it just seemed to lack pizzazz.  In year's past we've seen some extravagant, completely over the top booths; KLVN is one that comes to mind.

With that said, I still had a great time at Demo Day and spending parts of three days walking around the convention center.  Throughout the show, two themes really seemed to hit you over top of the head; matte color golf balls and single rider golf carts.  Last year, Volvik struck gold with Vivid and the introduction of the first matte finish golf ball.  In fact, the ball was so successful that Volvik couldn't keep up with demand.  We all know success breads competition so this year at the show Wilson, Callaway, and Zero Friction all showcased their versions of a matte finish golf ball.  Oddly enough, all at a cheaper cost point than Volvik.  Let the best matte golf ball win!

The second theme of the show was around single rider golf carts.  It seemed like every time I turned around there was someone going past me on a single rider cart.  By now we've all seen the GolfBoard, but several manufacturers continue to try to break into the market with their alternative version of the golf cart.  This year we saw alternative carts from Phat Scooters, Caruca, Ellwee, and Fat Tire Golf Scooter, just to name a few.
Some of the best products on display at the 2018 PGA Merchandise Show
A putter that stands?  With the Bloodline putter, you can align putts from a better perspective. From behind the face, it's possible to see the club, ball, target line, and hole without having to tilt your head or use your peripheral vision.
---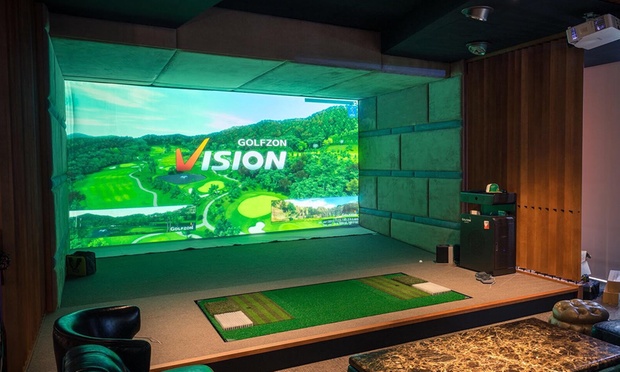 The world's best simulator!  Finally, a simulator that can accurately simulate putts and chip shots. Having gotten firsthand experience on the Golfzon simulator at the show, it is by far, the best simulator experience on the market.  Golfzon is breaking into the U.S. and will be partnering with installers to make Golfzon simulators available to consumers as part of home builds or remodels. Starting north of $20k, Golfzon simulators are for the ultimate Golf Aficionado who never settles for second best.
---
If you haven't heard of Tyson Lamb and Lambcrafted.com then we might need to revoke your Golf Aficionado card!  Tyson handcrafts some of the finest quality head covers, tools, coins, and of course, putters.  Tyson Lamb products are the hottest thing in golf and harder to come by then hen's teeth.  On Wednesday morning, there was a line of people waiting outside the exhibit hall to rush in and buy a Tyson Lamb putter.  By 9:30 am, there wasn't much left.  I'll warn you his stuff is highly addictive; so look at your own risk.
---
The first stop at the PGA Show was Wilson Golf and it was one of the best stops I made all week.  I ended up spending about a half an hour trying out the all-new C300 driver.  The C300 features Wilson's Power Hole technology, Urethane-filled through holes that are strategically positioned around the face allowing it to flex in turn expanding the sweet spot.
---
Speaking from years of experience as a Clicgear user, Big Max has built a better folding cart.  Simpler, lighter, easier to use, store, and travel with.  After seeing how easy it is to open this cart you'll be running to the Big Max website to order your own.
---
A golf umbrella that you can't lose and knows when it's going to rain!  Industrial-strength fiberglass prevents the umbrella from breaking and inverting.  Teflon-coated fabric keeps you dry and the UPF 50+ barrier protects you from the sun, making Weatherman the perfect golf umbrella for rain or shine.  Under the umbrella, a large mesh pocket offers handy storage and a silicone-coated rib which makes for a perfect place to hang your towel so it doesn't slip off.  The integrated Weatherman Umbrella app notifies you of weather conditions and syncs with Bluetooth technology so you'll never leave it behind.
---
This one had everyone at the show asking themselves why they didn't I come up with this idea. The perfect combination for a golfer's pocket, a tee and a divot tool all-in-one.  Available in three different lengths, you are sure to find the one that fits your game and pocket.
---
A new partnership with Jack Nicklaus is helping Stance bridge the age gap in their current customer base.  These Golden Bear socks are going to have even the oldest golfer at the club wearing a pair of Stance socks.
---
Yeah, you read that right, Cool Ass seats.  A replacement golf cart seat system currently only available for Club Car Precedent owners.  These seats replace your stock seats and have an internal element that will either cool or heat your golf cart seat.  What's better on a hot summer day than a cool ass!
---
Want a memory from your favorite course that will last a lifetime?  Dune Jewelry can provide you with the perfect piece to remember that special round long after you've signed the scorecard.  Breaking into the golf market, Dune Jewelry introduced a new golf line featuring pieces for both men and women that contain sand from the bunker of your choice.  That's right, Dune Jewelry will import sand from your favorite course to create a one of a kind piece that captures the spirit of your chosen course.